New COVID Protocols for Sunday Worship:
Vaccinated can stop wearing masks, social distancing
Fully vaccinated people can resume most of their ordinary activities including those associated with worship, fellowship, meetings, teaching, and service at church – the vaccinated can stop wearing masks and social distancing.
If for whatever reason a person cannot or chooses not to be vaccinated, then they should continue to mask up and socially distance. We will continue to offer an in-spirit worship service. Prayer books and hymnals will return to the pews. Let us know if you need a set for in-spirit worship.
Social distance seating. At St. Mark's whenever alcohol is served, appealing non-alcoholic alternatives are offered with equal prominence and accessibility. In this spirit, the north side of the church is reserved for those who wish to maintain social distance seating for whatever reason. No judgement given or reasons needed for any who wish north-side seating. Just as the north parking lot is reserved for those who need accessible parking, the north side is reserved for those who want social distancing.
Please do not read anything into where a person is seated. Returning to the non-alcoholic alternatives example, someone may choose to drink water instead of wine for a variety of reasons – maybe they are in recovery, the designated driver, don't like the brand of wine offered, didn't see the bar, or just curious.
Please know that this arrangement is only temporary. If this arrangement results in people not being able to sit in their "usual" seats, we will appreciate everyone's patience and flexibility.
Singers & servers must be vaccinated. The vaccinated may sing in church. Those serving food and beverages and those celebrating and serving Holy Communion should also be vaccinated. If a person is not vaccinated for whatever reason, then they should refrain from singing in church, and not serve as a Eucharistic Minister or coffee host.
For the "peace exchange" during worship, everyone's space and sensitivities should be respected. If someone offers their elbow, fist, or a peace sign, please respond appropriately. Do NOT assume physical affection. The peace of Christ is offered and given with enthusiastic consent.
Since children under age 12 cannot yet be vaccinated, all direct physical contact with young children should be avoided; elbow bumps are fine, but no hugs or handshakes. Our Sunday School will continue to be held in-spirit. When the time is right we will shift to a large, well-ventilated space or outside, using social distancing and masks. Our in-person Children's choir will not resume yet.
No matter where you are on this journey through the wilderness, you are welcome at St. Mark's – whether that be in-person, in-spirit, or in-between. Take all the time you need. We are a community of grace ready for you.
Holy Eucharist
Sundays at 10AM In-Person.
In-Spirit via Facebook Live, or on our website via YouTube.
The Divine Office 9:00 AM via Zoom
Follow the Zoom link: Morning Prayer.
Prayer forms available here.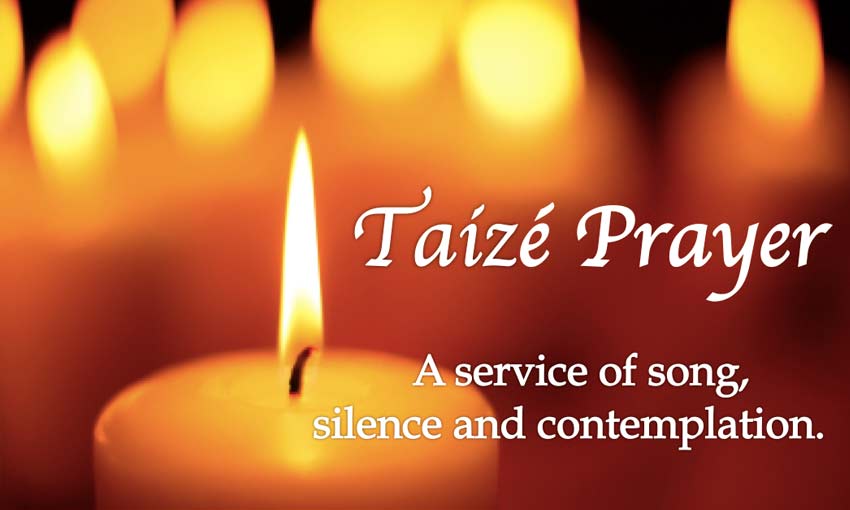 Taizé Worship
Wednesday at 7:30PM In-Person at Saint Mark's.
In-Spirit via Facebook Live, or on our website via YouTube.

Video of past worship services are available on our YouTube Channel: Saint Mark's Upland, please consider subscribing to our channel.